5 Things You Need to Know About HONOMOBO Modular Container Homes
Feb 14, 2020, 17:00 PM
The world is changing and we are forever adapting our ways of life. There is no difference when it comes to building a home! HONOMOBO creates streamline, classic, and beautiful container homes for those looking for a stunning change. You are in luck! You can see and explore the HONOMOBO M1 model at the BC Home + Garden Show from February 19- February 23 at BC Place Stadium.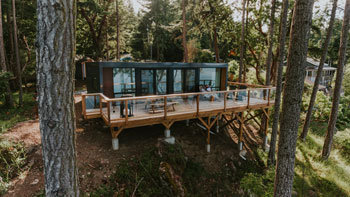 This Show feature was built in only 8 weeks one province away in Edmonton, AB using repurposed shipping containers. It is constructed of fully repurposed materials to lessen the environmental impact that goes into building a dream home. That is not the only thing this amazing company is doing to help our planet; every home built runs on 100% electricity which will in turn save you money. HONOMOBO specializes in seamless indoor/outdoor living so you can optimize the space you have and get the most out of your home. Immerse yourself in this beautiful single family home on the Show floor, fully furnished by La-Z-Boy Furniture Galleries of Vancouver to see if modular home living is right for you. Now, here are 5 things you need to know about HONOMOBO modular homes, from co-founder Daniel Engelman:

Honomobo modular container homes are built in the factory in 10-12 weeks. When the home leaves the factory it is 99% complete. The on site time to complete the project is only 1-2 weeks.

Shipping containers are made from corten steel which is chemically formed, with the ability to rust and protect itself from the elements even if all the paint is gone. So, if Honomobo homes are stripped of their paint, it will retain its structural integrity in the long term.

From a financial perspective Honomobo homes are approved in the same way as a home built right on site. Once Honomobo modular homes are installed on their foundation it is a permanent home in the same way as any other home.

Honomobo homes are certified under CSA A277 which is classified as a permanent modular home. From a building and energy code perspective a modular home is built to the same codes and specifications as a site built home.

Honomobo container homes are available to operate carbon neutral right now. All Honomobo homes run 100% on electricity and their power usage can be fully offset by solar PV panels to make them energy neutral or even energy positive.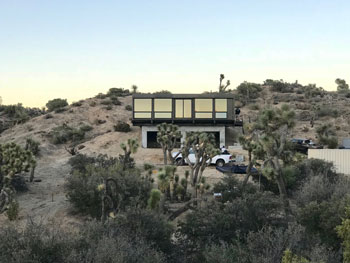 You need to check out the HONOMOBO M1 model which will be on display at the Show! Grab your tickets here to save $2! You don't want to miss these amazing features and all the industry experts presenting on the HGTV Canada Main Stage.
See you at this year's BC Home + Garden Show!