The Ultimate BC Home + Garden Show Checklist
Feb 22, 2017, 14:15 PM
The 2017 BC Home + Garden Show has finally arrived! With Canada's favourite home and landscaping specialists including HGTV Canada's Bryan Baeumler, Carson Arthur, Mike Holmes Jr., and Tiffany Pratt, live cooking demos from Vancouver's culinary masters, and more than 425 exhibitors and features designed to whip any home and garden into shape, there's innovation, inspiration and expert advice at every turn. Five days only: February 22-26, 2017 at BC Place Stadium.
With so much to see and do, make sure you have a game plan before you hit BC Place for the show. To help, we've created a must-see and do checklist of insider tips to help you make the most of your visit to the BC Home + Garden Show. Read on!
Stop
Before you gather your paint samples, Pinterest boards and design plans to bring to the Show, be sure you have your BC Home + Garden Show tickets in hand. Save yourself $3 (and some time!) by
buying your tickets online
.
Now that you're set, find your way to BC Place (777 Pacific Boulevard, Vancouver BC). If you're bringing your car and planning to do some shopping, there is parking available at the various lots surrounding BC Place Stadium. Check out the
BC Place Stadium Parking list
for more details, including price points and suggested lots.
See
Now that you're in, it's time to take in all that #BCHGS17 has to offer. Don't miss the talent and expert advice on the Main Stage presented by
Vancouver Sun
. Get expert advice straight from the industry's top home + design talent from must-see presenters including HGTV Canada's Bryan Baeumler, Mike Holmes Jr., and Carson Arthur.
And PSST! Stick around for a selfie with Bryan Baeumler at meet and greets after each of his stage presentations on Friday, February 24 at 7PM and Saturday, February 25 at 1PM.
Catch advice from HGTV's
Home to Win
host Tiffany Pratt, as well as local interior designer Kendall Ansell and Cityline personality Leigh-Ann Allaire Perrault, plus a slew of Vancouver's very own top designers including a presentation on smart design by Jamie Banfield, presented by
BC Hydro
. By the end of it all, you're certain to have everything you need to renovate and rebuild in equal style – design know-how included.
When
: February 22 - 26, check out the full
Main Stage Schedule
Where
: Main Stage presented by
Vancouver Sun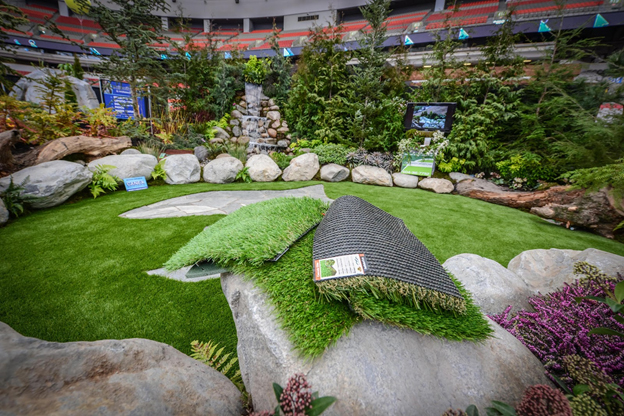 Want to find your green thumb? Catch all of the tips and tricks to a stunning home garden from the experts at the
Vancouver Sun
Gardeners' School. Learn about everything from urban farming and growing groceries to turning your green space into the perfect backyard oasis. Join local gardening experts Leanne Johnson of
Gardenworks
and Brian Minter of
Minter Country Gardens
, along with a number of talented gardeners for five days of green education.
When
: February 22-26, check out the full
Garden Stage Schedule
Where
: the
Vancouver Sun
Gardeners' School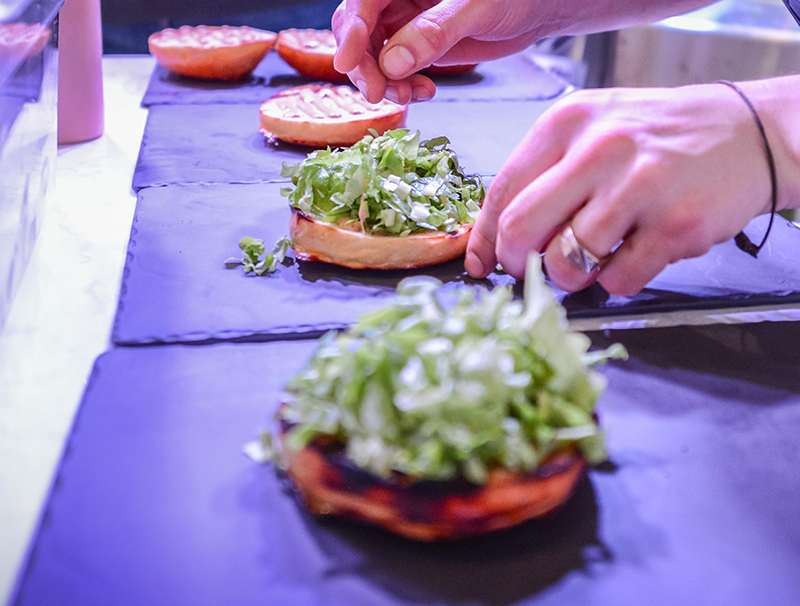 If you're looking to step up your cooking game, be sure to snag a front row seat at the Cooking Stage! Enjoy live cooking demonstrations from local culinary stars and distillers, including Top Chef Canada contestant and
Mission Kitsilano
Chef Curtis Luk at 2PM on Saturday, February 25, sharing tips on how enjoy west coast oysters, and local distiller Gordon Glanz of
Odd Society
presenting Saturday, February 25 to teach you about the "Cocktail Revival". Vancouver's top culinary artisans will be bringing all their trade secrets to the stage covering hot dining topics and trends including farm-to-table, locavore and plant-based dining. Quench your thirst and satisfy your tastebuds with these can't miss presenters all weekend long.
When
: February 22-26, check out the full
Cooking Stage Schedule
Where
: The Cooking Stage Experience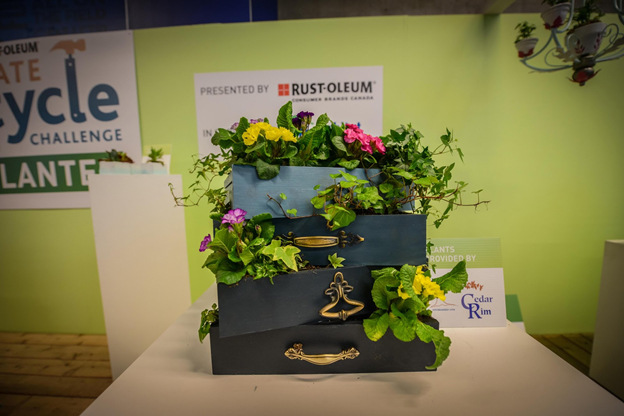 Experience
Eating your veggies has never tasted better! The Ultimate Upcycle Challenge is back with a fresh new twist to grow your greens and give back at the same time. Five local tastemakers are sprouting change by upcycling rescued items from
ReStore
into one-of-a-kind containers for herb and vegetable gardens, using only
Rust-Oleum
paints and stains, and a frugal $50 design budget. Place a silent auction bid on your favourite edible urban garden at the show and support
Habitat for Humanity Greater Vancouver
in the process - 100% of auction proceeds benefit the cause, helping to provide provide local families with a safe, affordable place to live.
When
: February 22-26, 2017
Where
: Booth # 2235 on the Concourse
Take modern, beautiful and modular living to a new level with a
Honomobo
shipping container home! Interior designed by local, award-winning interior design firm
Kendall Ansell Interiors
, and landscaped by
Blue Pine
, 'one-of-a-kind' hardly describes how unique each Honomobo home really is. Take a tour through this 704 sq.ft. home that can easily be stacked or relocated depending on need, and features endless applications and beautiful, but practical design. Just one look and you'll see that the Honomobo shipping container home elevates compact, small-space living to a whole new level with environmentally friendly designs and efficient construction timelines.
When
: February 22-26, 2017
Where
: South Side of the Field Level, next to the Floform Lounge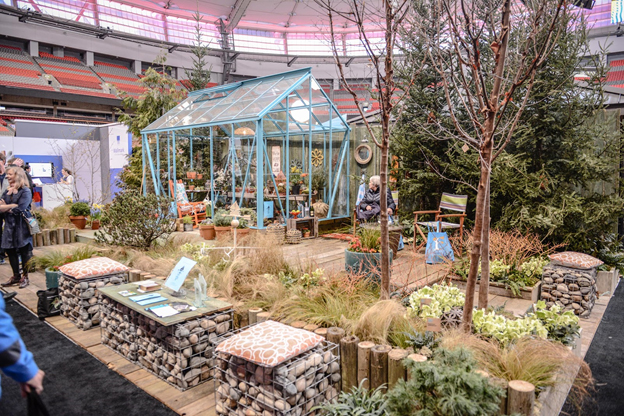 Apartment dwellers and urbanites, this one's for you: conserving space and living small is all the rage right now, which is why we've got all the small garden ideas you'll need to cultivate a lush, green garden of your own no matter where you call home. Explore more than 3,000 square feet of innovative container and small space gardens designed by
Jovak Landscaping
,
Vandenberg Landscape Design
,
No Limit Landscaping
and
Azuro Concepts
, among others. From synthetic turf to hearty greens to self-contained recycled water features, we've got all the tools and inspiration you'll need to create the garden of your dreams regardless of size.
When
: February 22-26, 2017
Where
: Centre Aisle on the Field Level
Back to the
TELUS
Future Home! No need to press fast forward, the future of fibre optic entertainment is already waiting for you when you step into the TELUS Future Home. A showcase of their revolutionary technology, the TELUS Future Home showcases their state-of-the-art fibre optic network that connects communities across Western Canada better than ever before. Step inside the super-wired 560 square foot home to see just how revolutionary TELUS Fibre is. You might want to make yourself comfortable and stay awhile to enjoy the most reliable, consistent connection to date with blazing fast speeds of 150mps to stream video in ultra-HD quality, and more.
When
: February 23-26, 2017
Where
: Centre Aisle on the Field Level
Hardwood floors desperate for a refinish? Master bath begging for fresh tiles? Look no further than the Help Desk presented by the
Better Business Bureau
to point you in the right direction! Stop by Level 2 or the West Airlock of the Field Level to get started.
When
: February 23-26, 2017
Where
: Level 2 and the West Airlock of the Field Level
Toyota Canada
is proud to return as the official automotive sponsor of the BC Home & Garden Show. Choose from a selection of great Toyota vehicles to test drive right here at the show including the New 2017 Corolla iM and enter for your chance to win at
toyota.ca
.
When
: February 22 - 26
Where
: Booth #1800
Few things add to a happy, healthy home like having a dedicated spot to do your laundry with all natural, earth friendly products like
Nellie's All Natural
. Modern meets retro as Nellie's, together with
Dexter Dolores Interiors
, create dream laundry spaces together. Learn how you can incorporate function and form in your own home, all while preserving the environment and the health of you and your family with toxin and phosphate free laundry products for a truly hypoallergenic experience. Go green with Nellie's and take a look at these dreamy laundry rooms - we promise you'll never see laundry as a chore again!
When
: February 22-26
Where
: Booth #2283 on the Concourse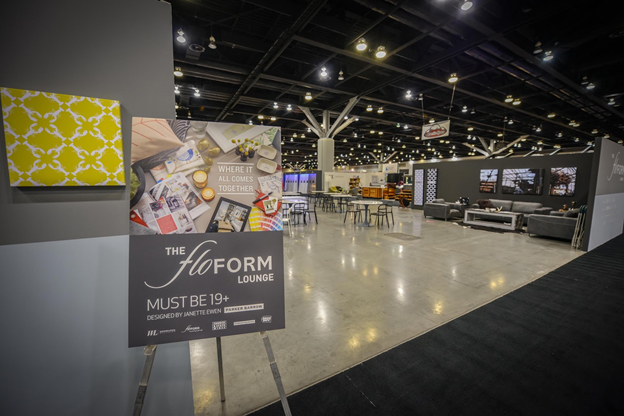 Eat & Drink
Great ideas take shape in the presence of comfort, inspiration – and a little liquid courage. Located just steps from the Main Stage, this year's
Floform
Lounge is designed by
Kendall Ansell Interiors
and presented by
Western Living
. Snag a break from the action, take inspiration from your stylish surroundings, and toast to making those home improvements happen.
When
: February 22-26
Where
: BC Place Stadium Create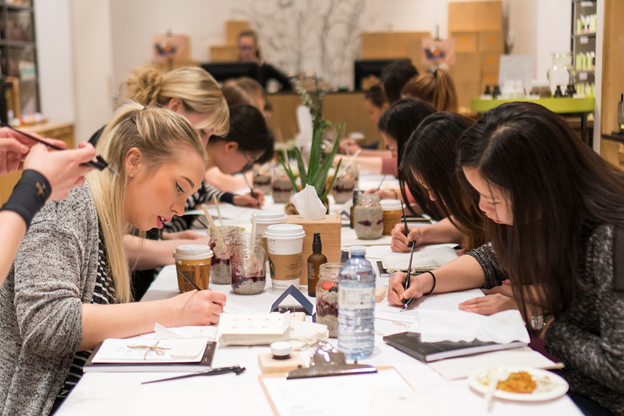 Create
Your Pinterest board is about to come to life! Learn from the pros in this hands-on workshop series curated by some of Vancouver's finest local artisans. There are so many ways to create and flex your do-it-yourself skills, starting with the brand new WORKSHOP Series. Learn from the best in a variety of categories, including
Written Word Calligraphy
(Beginner Modern Calligraphy),
Celsia Florist
(Botanical Arrangement) and
Spool of Thread
(Favourite Knit Renfrew Tee & Comfy Couch Cushions). Learn the lost art of calligraphy, create your very own unique botanical arrangement, try your hand at sewing and fashion design or get creative with flower crowns. Choose your workshop and reserve your spot online directly with each vendor.
When
: February 22-26
Where
: BC Place Stadium - West: Booth #2264
Learn
Sometimes an expert's eye for design is all you need to get your home and garden goals on the right track. Enjoy a custom, 10-15 minute complimentary Ask-an-Expert consultation with one of our local home improvement insiders and get your projects on the right track. Take inspiration from styled home décor vignettes, and come prepared with paint swatches, flooring samples and an open mind so you can head home ready to make your design dreams a reality.
When
: February 22 - 26, check out the
full schedule
Where
: Booth #418
Shop
Who's in need of a little retail therapy?
Portobello West
, Vancouver's favourite fashion and art market, is showcasing a selection of the city's top emerging artisans and craftspeople in a special home show pop-up edition. With covetable pieces to take any wardrobe, jewelry box or art collection to whole new heights, shopping local has never been so chic.
Bare walls, begone! Are you looking to dress up your walls with local art? Look no further than M(art)ket, BC Home + Garden Show's best spot to pick up choice pieces from local painters, photographers and sketch artists, with options suited to every taste and budget. Dreary palettes, be warned – your days are numbered.
When
: February 22 - 26
Where
: BC Place Stadium - West: South side of the concourse
Share
Be sure to share all your BC Home + Garden Show fun & finds on social media! Follow along on
Twitter
and
Instagram
@vanhomeshows
and use
#BCHGS17
on all your pics.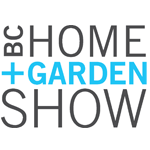 BC PLACE STADIUM
FEBRUARY 22-26, 2017.